Tough All-Terrain Teardrop Trailer Goes Off-Grid, Packs Rooftop Tent – treehugger.com
A friend sent this link to me.  Pretty Cool.
I could definitely deal with this type of mobile Bug Out.
My aunt just moved a trailer to the Northwoods in MN.  Her's is bigger.
Price point a little high, but complete system.
Nice.
-MP
Tough All-Terrain Teardrop Trailer Goes Off-Grid, Packs Rooftop Tent

© Moby1
From the ultra high-end but sustainably-minded Wheelhaus to renovated, off-the-grid vintage Airstreams, trailers come in all kinds of shapes and sizes. Of course, the bigger they are, the more fuel they consume, not to mention the fact that bulkier models are better staying on paved roads.
For adventurous, off-road types come these rugged little teardrop trailers from Moby1, a small company based in Springville, Utah, which boast useful features like expandable roof top tents and all-terrain tires.


© Moby1
Founded by designer and craftsman Ashley Grimes in 2009, Moby1 aims to revive the efficient and beautiful design sensibilities of the teardrop trailer, once common during the fifties until the advent of cheap fuel and monster-sized recreational vehicles.
Coming in four different models that can be hooked onto larger vehicles, sub-compact cars and even motorbikes, these trailers aim for easy set-up and take-down. The Moby1 XTR is the expedition version, outfitted with custom-made components, a special coil suspension system and a strengthened frame to withstand extra wear and tear, plus an impressive range of options including running water, outdoor shower, portable toilet, solar panels and generator to enable off-grid explorations.


© Moby1
There's a galley kitchen with built-in cabinetry for better storage, while the roof top tent expands to sleep four — not including the three people you can have sleeping below (two inside, one under the awning).


© Moby1


© Moby1
Not to be left out, there's the XC, Road Tour and C2 Compact/Cycle models, meant for lighter, smaller vehicles; each can be modified to suit individual needs — great for people who want to go off the beaten track but still bring a bit of home comforts with them, without guzzling expensive fuel.


© Moby1


© Moby1


© Moby1
Small, flexible and sensible, it's about time that teardrop trailers made a comeback. Details and inquiries over at Moby1.
Featured on: uncrate.com and thrillist.com
Plan on exploring the great outdoors this summer? Get prepared with one of these Moby1 Expedition Trailers ($5,500 and up). Available in specific models for motorcycles, (mostly) on road use, off-road use, and use anywhere your vehicle can make it, these hand-crafted trailers offer terrific build quality, full-size galleys, plenty of creature comforts, and sparse, no-nonsense looks that will make you the star of the camp ground.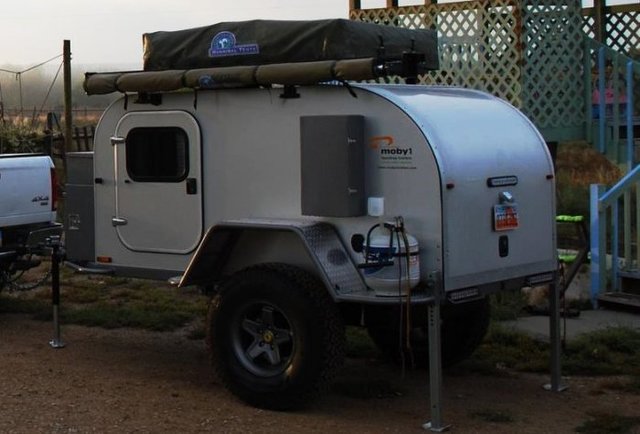 If 2006's RV taught us anything, it's that the The Great Outdoors is better when the only massive camper around is John Candy. Fortunately, Moby 1 modeled their line of modern, lightweight towing campers after "teardrop" ones from the '30s, offering many of the same amenities as their less nimble counterparts in packages so svelte, some of 'em can be towed by a motorcycle.
To prove it, we've put together a slideshow more awe-inspiring than any National Park could hope to be, so kick back, relax, and imagine you're headed out camping as you peep their flagship XTR model in sexy, sexy action.