As the "Emergency Preparedness Specialist" in our local congregation (Ward) I had the privileged of working with many individuals to prepare a workshop for the neighborhood and this is what we did to prepare for an earthquake disasters in our area.
8:00am – Set Up
Everyone Arrive for Set-up
Someone will bring the keys to the building and library
Those preparing displays for later in the morning need to have them done so that they can participate in the meeting at 9am
Those providing refreshments from their food storage need to be ready as much as possible by 9am so that they can participate in the meeting
Someone will help set up the two projectors for the meeting
Someone will also need to bring theirs as a back up
The cultural hall will be divided so that they section closest to the primary will be used as the display area
The 2 sections nearest the chapel will be used for the main meeting
The Nursery will be in the regular room near the chapel
The Young Men and Women will determine where they will be working with the primary but should have everything ready so that they can participate at 9am
8:45
Have the Nursery ready to receive children
Video before the meeting to set the tone:
9:00 to 9:20 – Opening in the Main Room – overflow

Presided over by & Conducting: _____________________
Opening Prayer: ________________ (blessing on the food)
Open Hymn #229 Today, While the Sun Shines
§  Conductor: _____________
§  Pianist: ________________
10 minute talk on Provident Living given by: ________________
As President Marion G. Romney said: "Food for the hungry cannot come from empty shelves.  Money to assist the needy cannot come from an empty purse. Support and understanding cannot come from the emotionally starved. Teaching cannot come from the unlearned. And most important of all, spiritual guidance cannot come from the spiritually weak" (in Conference Report, Oct. 1982, 135; or Ensign, Nov. 1982, 93).
Also refer to "Preparedness – Becoming a Saint"
5 minute instruction on how the workshop will proceed given by: ___________
Breakout themes, locations, times
Food & Mingle Plans
THEMES
Front & Middle Cultural Hall
9:30 to 10:15 – If ye are prepared ye shall not fear
* Earthquake Preparedness – what should I know
* Utah Preparedness – Be Ready Utah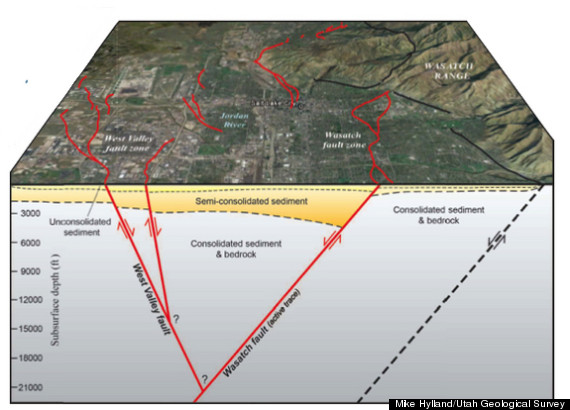 The Wasatch and West Valley Fault Zones near Salt Lake City may rupture at the same time, new research reveals. (FULL STORY)

PowerPoint Presentation – If Ye Are Prepared
Pass out Family Forever handout & The Day to Prepare handout
Watch KSL story regarding earthquakes in the Wasatch Front
10:20 – Dismiss the Primary and Youth
Relief Society Room
Primary Presidency
11:25 – 11:40 Young Men: Senior Primary –
11:25 – 11:40 Young Men: Junior Primary –
– Primary
* Children safety and role-play
** Earthquake Safety, Indoors and Outdoors
10:25 to 11:40 – The Body of Christ, we are not alone!
* The Stake & Ward Preparedness Plan
** Youth & Primary break off into the Relief Society Room
Priorities
Physical – Shelter, Water and Food are essential for survival and are priority #1
Mental – Have a positive Mental Attitude with a desire to serve those in need: do not go into a state of shock – stay busy serving.
Security – Provide a secure and safe area for refuge and peace amongst the chaos
Spiritual – Testimony Meetings with songs and prayer will be often
10:25 – 10:40 Stake / Ward & Bishop
Family 4-Ever & Preparedness Worksheet
Stake Preparedness Program
Ward Preparedness Program
Bishops Preparedness Role
– Bishopric – Group leadership and coordination with other church and civic organizations
Introduce the role of each auxiliary group in a neighborhood situation such as a major earthquake:
10:40 – 10:55 High Priest
High Priest Group Preparedness Role
– Provide for a general accounting of the ward family state of being, shelter and security while assisting the Relief Society with Food and Water needs.
10:55 – 11:10 Elders
Elders Quorum Preparedness Role
– Provide for a general accounting of the ward family state of being, shelter and security while assisting the Relief Society with Food and Water needs.
11:10 – 11:25 Relief Society
Relief Society Preparedness Role
– Food and Water preparation and administration while attending to the health needs of the ward.
11:25 – 11:40 Primary
Primary Preparedness Role
– Provided a secure sheltered environment to help with the needs of the children – prayer, songs and games.
Young Men & Women
– Assist with ward activities as assigned by the bishopric
Relief Society Room
– Primary
* Children safety and role-play
** Earthquake Safety, Indoors and Outdoors
Back Cultural Hall  (Meet and Mingle)
11:45 Food & Mingle – Preparedness Potluck with food & drinks
72 Hour Packs (Instructions & Samples)
72 Hour Kit List
72 Hour Kit List – per person
Be Ready Utah – 72 Hour Kit
* Family, Adult, Children Packs, Grab& Go Bags, Get Home Bags, Bug Out Bags etc.
The Wasatch fault is regarded as posing the greatest earthquake threat in Utah, yet this fault has produced no significant historical quakes. In this lecture, Dr. Horns talks about why we think that the Wasatch fault poses such a threat, despite this lack of historical activity, why we cannot say with any certainty when the next large earthquake will occur on the Wasatch fault, and why we really shouldn't even focus on the date of the next earthquake anyway. This talk provides an introduction to Utah's Wasatch fault and the methods geologists use to study prehistoric earthquakes on the fault.
After an event, what are the plans for the family to meet and gather?
Family Emergency Plan
Family Communication Plan
Family Home Escape Plan Worksheet
Home Safety Check List
Home Safety Vacation Check List
Home Security Check List
Triangle of Life
Safe Home
Workplace Emergency Kit
Southern California Quakeguide
Gather in the serving area, Serving Area to the West of the Kitchen
Back Cultural Hall – display area
Collect feedback forms
Photo credit: geeksugar.com
Preparing for a disaster like an earthquake seems like an oxymoron since one can't ever really prepare for an earthquake.  However, one thing you can do is put together a comprehensive earthquake preparedness kit to mitigate the damage.  Ideally, you should keep multiple kits in multiple locations due to the obvious uncertainty of where disaster will find you.  One such option is a mobile kit you can keep at work or in your car.  With thoughtful preparation and regular maintenance, a mobile earthquake preparedness kit can provide a considerable advantage when disaster ensues.
Basically, any good mobile kit should consist of the same essential survival goods as a larger home kit. The primary difference is that the mobile kit is slightly trimmed down to save on weight and increase portability to get on the move at a moment's notice.  You can use your discretion with the amount of goods you include in your mobile kit, but here are some of the most critical components to include in any mobile earthquake kit.
Water and food:  You should ensure that you have at least a three-day supply of potable water and non-perishable food.  Instant, canned (don't forget the can opener), and some dry, packaged, ready-to-eat foods are ideal for a mobile kit.  After all, the kit's function is to ensure your transitory survival. As for water, you should have a gallon of water per person per day on hand.  This is both for drinking and sanitation.
Batteries, flashlights, radios, and first aid:  A surplus of batteries in the aftermath of an earthquake is always a good thing, so load up.  In the event of mass power outages, you'll need batteries to power everything.  A hand crank radio is handy to tune into any weather and emergency broadcasts.  Flashlights and first aid kits pretty much speak for themselves.
Tent, sleeping bag, maps, and whistles:  A small, easily stored, lightweight tent and sleeping bag are essential for shelter and warmth if you get caught outdoors.  Area maps and whistles are also essential for navigation and signaling for help.
Personal hygiene items:  Carrying some travel-sized personal hygiene items with you will make you much more comfortable if you aren't able to reach your home or if your home has been compromised by the earthquake.  Items such as soap, deodorant, and a toothbrush and toothpaste are small items that can make a big difference in an emergency situation.
Cell phone, solar-powered charger, and assorted tools:  Keeping a cell phone with a solar-powered charger will ensure some communication in the event of widespread power outages.  Also, keeping a small set of screwdrivers and some assorted tools is a good practice in the event you need to turn off any utilities or for any additional emergency work.
Effective disaster preparedness begins with pre-planning and redundancy.  Keeping a few small kits and a larger home kit will ensure that you have a measure of security during an earthquake.  There are many other additional smaller supplies that you may consider packing in a kit.  Things like medical manuals, medication, extra blankets and clothing, lighters and matches, copies of important documents, and emergency cash are all highly valuable in any emergency situation.
Submitted by: (SOURCE CONTENT)
Ben Vaughn. As a proponent of natural disaster preparedness, Ben Vaughn regularly collaborates on Idaho natural disaster recovery articles and other best practices for surviving nature's wrath.